talented Melbourne agency answer our questions....
With a beautiful portfolio, littered with stylish, crisp, contemporary design, Melbourne based studio 'Famous Visual Services' are the ideal subjects for our latest studio spotlight…..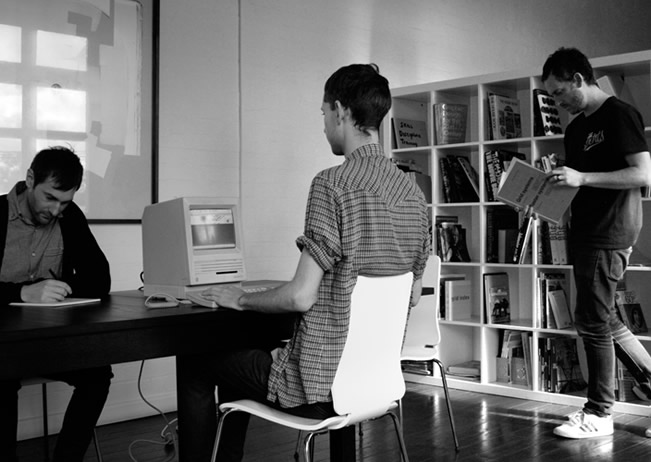 Left to Right: Jonathan Nicol, Jordan Dolheguy, Dominic Forde

Who are you and where are you?
Dominic Forde
Famous Visual Services
Melbourne, Australia
What mediums do you work in?
Graphic Design – mostly print and some web.
What influence does your location and surroundings have on your work?
It is always a big influence. In recent years the web has made it easier to view design work being done all around the world and for that reason some would argue that your location is now less of an influence or less identifiable. However, I would say that the work we produce is still largely influenced by the environment and times we live in.
Where do you feel most inspired?
I feel most inspired anywhere I've never been before. That's why it's important to constantly seek out new environments to immerse yourself in and then hopefully your work won't look like everyone else's
Is it important for your studio to be a place clients can feel comfortable in / impressed by?
Yes, It's important to make clients and visitors feel comfortable in your studio. People will naturally make assessments about you and your business based on how you present yourself and your environment.
What are you working on right now?
The Melbourne International Arts Festival Program guide for 2010 and an online shop for a range of grided layout pads we've developed called Bon Graf.
What's the most enjoyable project you've worked on?
We did a T-Shirt project about five years ago where we visited locations that interested us and produced a seasonal range of Tees about each area and community we visited. We promoted it by using people we met on location as models for our range so there was an interesting photographic component to the project as well as the T-Shirt graphics themselves. The project was commercially successful but ran out of steam when we couldn't sustain distribution and manage our studio at the same time. It did introduce us to a few local T-Shirt labels which we continue to design ranges for today as part of their clothing labels.
More recently, I've enjoyed designing and producing a book containing a conversation with Ian Beck the designer of the Elton John album cover Goodbye Yellow Brick Road. The book was letterpress printed and stitch bound to be sold at a gallery fund raising event for Cancer Research.
Have you ever had a design fail?
Most of the time a client will tell you that you're design has failed or succeeded in pleasing them before it's ever been produced or tested in its intended market. It would be more appropriate to get accurate feedback on the failure or success of a design from the end user. That seems to rarely be assessed accurately in graphic design. Hopefully we learn from any mistakes we make and we continue to improve.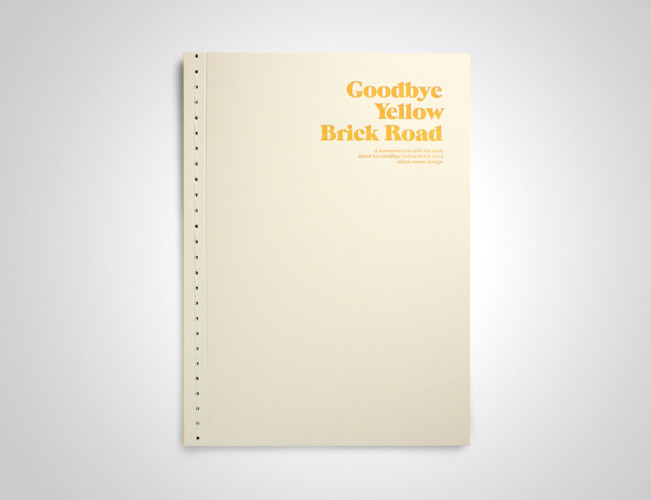 What's your dream project/client?
A wealthy Philanthropist approaches me with a brief to travel the world in a highly sophisticated mobile design studio with my wife. We are asked to gather photos, film and curiosities on our travels and document the adventure in an immaculately produced, environmentally sound FSC accredited carbon neutral book.
Talk us quickly through your approach to a new project and the processes it will go through before it's complete….
Meeting with client to get brief. Return brief outlining costs and what you understand you will be required to do. Research for as long as possible to uncover a variety of approaches. Identify and edit these to the best couple of ideas. Have a meeting to present only ideas you are happy with. Ie. Don't show a client anything you would not enjoy producing. The rest of the process is basically back and forth like table tennis till the job's refined and complete.
What importance do you place on researching new technologies and the potential for designing with/for them?
Ideas are the most valuable part of your work and they are not reliant on technology. Aesthetics are shaped by technologies. I place an importance on researching anything that will make your work unique. If new technologies help you find a way to do that then use them. I tend to prefer re-discovering old technologies and trying to find new ways of using those.
How important do you think the following are in being a good designer…. formal training / passion / experience – and what do you think makes a good designer?
I think passion or desire is probably most important. Without that you won't have the motivation to continue to grow when you finish the formal training. Formal Training is still really important though, the longer the better. I guess it's possible that you could have passion and desire but not a drop of creative talent in your blood. So you must need a bit of natural ability or ability to learn as well.
Is it important to know about, and respect, the history of design to be a good designer?
Definitely. I've been a late developer in that department, but the more you read and learn about design history and what has gone before you the better informed your design decisions are.
How important is it to break the rules… take chances?
It's necessary to break the rules and take risks. The difficult thing is to convince clients that instead of treading a safe, well worn path with their money or brand you'd like them to take a gamble on your wacky idea. The fact is that it's more dangerous for them in the long run to do the same as everyone else. So you need to build a relationship with them first where they trust you enough to take risks.
Can over reliance on modern software hamper the design process?
Yes, when it's used as a substitute for good ideas.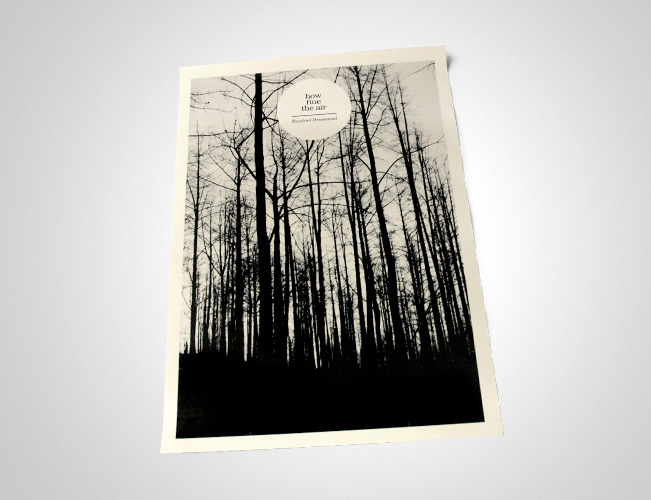 Who, or what, are your biggest inspirations?
I'll stick with designers for that question but really there are a lot of unrelated fields I find inspiring. Designers who have inspired me the most – Paul Rand, Wim Crowel, Herb Lubalin, Saul Bass, Milton Glaser, Wolfgang Weingart, Armin Hofmann, Bruno Munari, Paul Rener, Peter Saville, Emil Ruder
Where do you take inspiration from outside of design and art?
I like a lot of comedy. I guess it's the way comedians look at ordinary things from a very different perspective which is inspiring – Paul Whitehouse, Steve Coogan, Flight of the Conchords, The Might Boosh, The League of gentlemen to name a few.
Which contemporary designers/artists do you admire?
There are so many great studios in the world today that I admire. Since I'm in Melbourne now, I'll give props to a few of the local studios I admire: Chase and Galley, The co-op, Hofstede Design, The Narrows, Fabio Ongarato, 3 Deep, Studio Round, Studio Pip and Co. David Pidgeon
What do you get up to in your spare time? Does it influence your work?
Rummaging about in second hand shops and markets, playing guitar to annoy our cat, playing indoor soccer or basketball… The second hand shops and record bins are an influence on the work.
What current design trend would you kill off given the opportunity?
I enjoy watching visual trends recycle and mutate, they all die naturally when their time comes. I'd like to kill off the movement described as 'Design Thinking', if you could describe that as a trend.
What's on your stereo right now?
Radio Plum (my friend Gavin's podcast radio show)
What's your favourite album cover?
Ice T – Power.
What direction do you see your work going in the future?
North