talented Parisian duo answer our questions...
Properly kicking off our 'Studio Spotlights' feature, uber-talented French duo, à 2 c'est mieux, have given us an insight into their inspirations, processes and personality – with a little sneak look inside their studio too……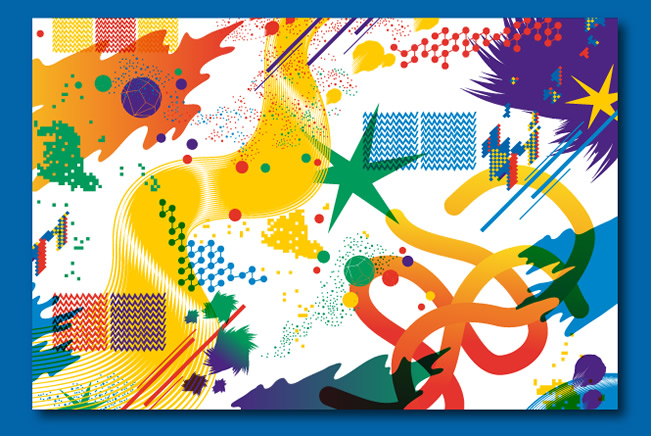 Who are you and where are you?
Aurore & Vincent : We are à 2 c'est mieux – Aurore Lameyre & Vincent de Hoÿm – a Paris-based art direction studio.
What influence does your location and surroundings have on your work?
A&V : Our studio is in the 10th district of Paris. It's a real melting-pot of Black, Chinese, Turkish, Indian, Jewish and East European communities. We are influenced by this popular environment.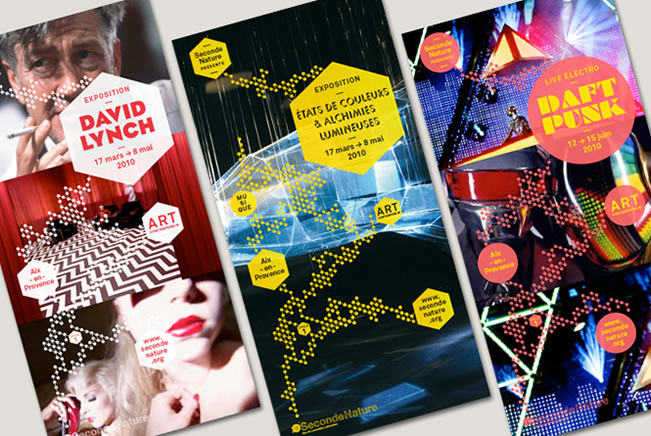 Where do you feel most inspired?
A : When I apply my nail polish.
V : In my girlfriend's garden, in the south of Paris.
Is it important for your studio to be a place clients can feel comfortable in / impressed by?
A : Yes, we just get a new studio, very bright and peaceful.
V : It looks like an appartment, so people who come feel at home.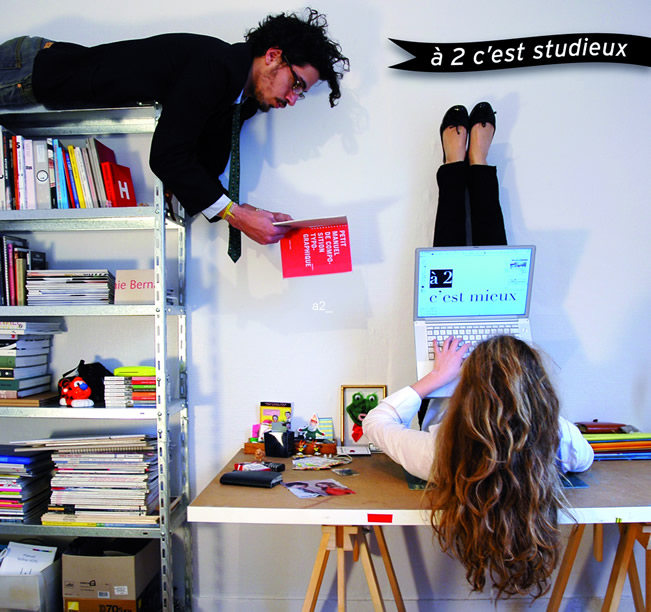 à 2 c'est mieux in their studio
What are you working on right now?
A&V : BIG Festival, music festival in Biarritz (Atlantic Coast) this summer.
What's the most enjoyable project you've worked on?
A : 8th edition of Nuits sonores, electro and indie music festival in Lyon.
V : Rendez-vous sauvage, a mobile art gallery that we founded with Jade Fourès-Varnier.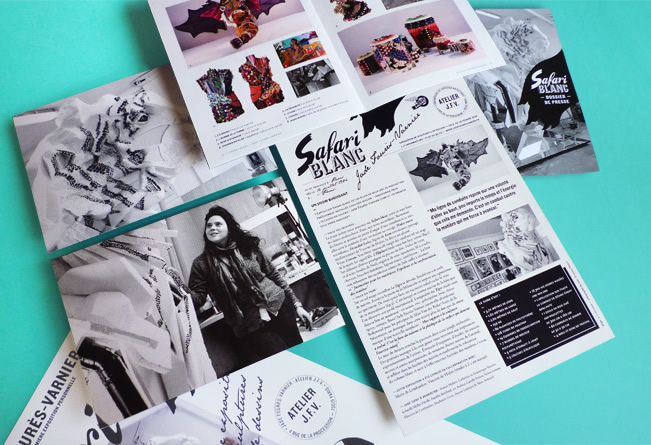 Have you ever had a design fail?
A&V : Not really, but we always try to do better and stronger.
What's your dream project/client?
V : Curating and running a young french artists show in Centre Pompidou or Palais de Tokyo.
A : Scenography of an exhibition about Prince.
Talk us quickly through your approach to a new project and the processes it will go through before it's complete…
A&V : See text of Nuits sonores festival, one of our latest projects
What importance do you place on designing for new technologies (iPad etc.)?
V : Digital layout is very interesting, it's a new playground for graphic designers.
A : We're actually working on a magazine project developed for iPad.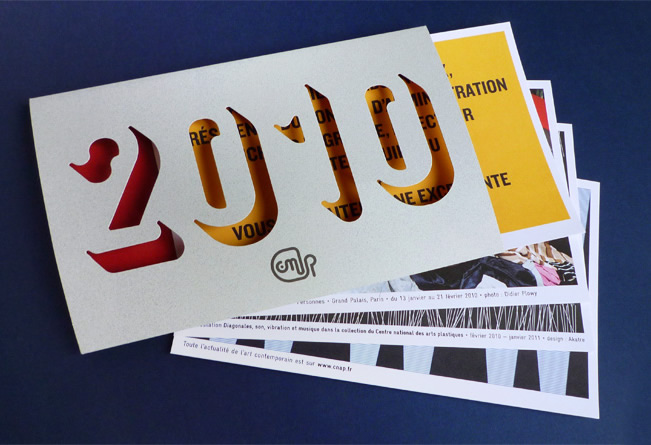 Is it important to know about, and respect, the history of design to be a good designer?
V : There are no rules, you can be self-educated and best designer ever. But culture – learning, reading, refering to all kind of histories – is really very important.
How important is it to break the rules… take chances?
A&V : Taking risks is the way!
Can over reliance on modern software hamper the design process?
A : Sometimes, it's a kind of easiness. We are watchful not to systematize our ways of creation.
Who, or what, are your biggest inspirations?
A&V : We love artists such as Quentin Tarantino, M/M (Paris) or Björk for their "bigger than life" work.
Where do you take inspiration from outside of design and art?
A&V : In the street, in our dreams, in the nature, everywhere!
5 things you love…
A : My outstanding boyfriend Marc, Paul Verhoeven's "Black Book", Mediterranean Sea, Champagne and Mozarella.
V : My muse and lover Jade, Henri Matisse, Thelonius Monk, Castelmaure red wine, Jim Jarmush's "Ghost Dog"
5 things you hate…
V : Racism, snobbery, stinginess, hypocrisy, real-TV
A : Muesli
What's on your stereo right now?
A&V : Philippe Collin's "Alerte au Mangin Palace" radio episode on France Inter. Amazing!
What's your favourite album cover?
A : Roxy Music's "Roxy Music" album
V : Reid Miles's design for Blue Note Records. The Rumproller by Lee Morgan for example.
What direction do you see the world going in the future?
V : Chaos.
A : But we're still optimistic!
Want to see you or your studio here? Contact us; suggestions@theimport.co.uk